Gulf Pharmaceutical Industries 'Julphar' reports financial results for H1 2023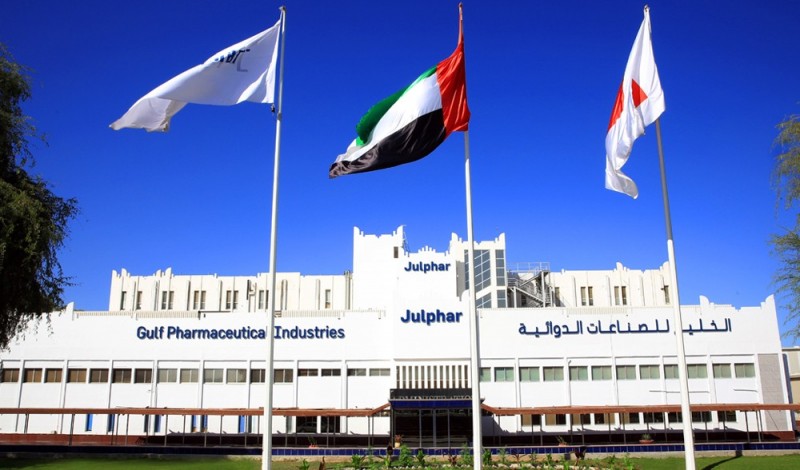 Gulf Pharmaceutical Industries 'Julphar' reports financial results for H1 2023
2023-08-11
· Julphar reports AED859.4 million in H1 2023, 2.5% increase year-on-year (+4.7% at constant currency), with solid growth development in UAE and across GCC region.
· Over 86 million units sold indicating enhanced unit delivery, with strong market share increases across key markets reflecting robust commercial execution.
10th August, 2023, Ras Al Khaimah, UAE: Gulf Pharmaceutical Industries PJSC (Julphar), one of the largest pharmaceutical manufacturers in the Middle East and Africa, has reported its financial results for the period ending June 30th, 2023.
Amid headwinds in specific geographies, and currency devaluation in Egypt, Julphar reported revenues of AED859.4 million in H1 2023, a 2.5% increase (+4.7% at constant currency) compared with the same period last year (AED838.5 million in H1 2022) driven by improved sales, and a solid and sustained market share increase across its core markets, with subsidiary Planet Pharmacies' sales delivering +7.1% growth compared with the same period last year and showing good momentum in the retail and distribution business.
This period witnessed Julphar achieving double digit growth in the UAE and GCC region markets as a result of continued positive developments in key markets, such as Saudi Arabia, Oman, and Kuwait. Over 86 million units were sold during the first half, a noticeable increase compared to 70 million in H1 2022, demonstrating the strong momentum of the company in core markets and its ability to balance headwinds occurring in specific and isolated markets.
During the first half, gross profit decreased by 11.5% to AED242.8 million from AED274.4 million in H1 2022.Julphar reported an operating loss of AED15.2 million, a decrease compared to the operating income of AED21.3 million reported in the same period last year, with a net loss of AED45.7 million in the first half of 2023 as a result of increased financing costs as well as socio-economic and political challenges within markets such as Iraq, Sudan, and Egypt. Excluding the impact of one-off events related to impairment of overdue receivables of Lebanon subsidized business, the adjusted net loss reached AED35.1 million.
In addition, EBITDA from continuing operations reached a positive AED53.4 million in H1 2023 and achieved a 6.2% EBITDA margin as percentage of net sales, in comparison to AED84 million in H1 2022.
Sheikh Saqer Bin Humaid Al Qasimi, Chairman of the Board, Julphar, said: ""With Julphar maintaining revenue growth in H1, we are confident that we will continue to champion innovation and drive impact to ensure that our patients across the markets we operate in are able to access high quality medicines. As part of our carefully constructed strategy and forward-thinking approach, delivering the best healthcare solutions remains at the forefront of Julphar's priorities."
Mr. Basel Ziyadeh, Chief Executive Officer, Julphar, said: "Despite substantial geopolitical and economic challenges in the region, Julphar was able to demonstrate resilience and
strengthen its presence across key markets. We remain committed to enhancing our product pipeline through the delivery of innovative launches that are in line with our strategic roadmap and supported by our cutting-edge manufacturing capabilities."
Looking ahead, Julphar maintains a razor-sharp focus on its strategic business priorities as it increases market share through its existing portfolio and new products. To drive long-term growth, Julphar continues to explore new collaborations and partnerships, while launching innovative products in its core-therapeutic areas to reach more patients and contribute to a healthier future for communities in the region.