Gulf Pharmaceutical Industries Julphar reports financial results for Q3 2023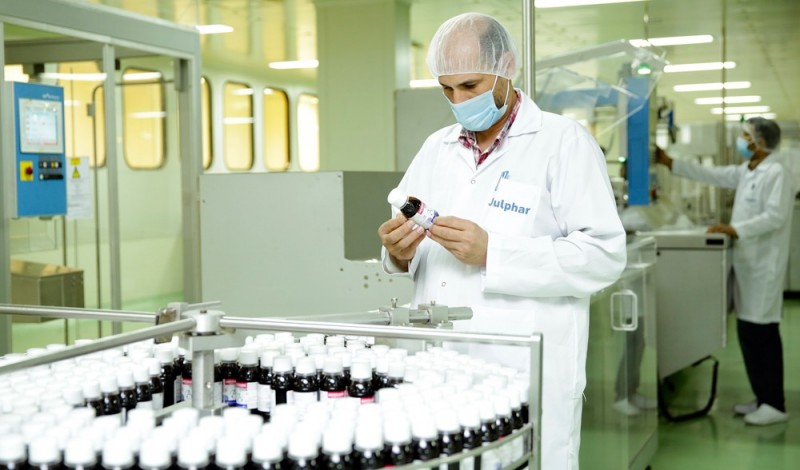 Gulf Pharmaceutical Industries Julphar reports financial results for Q3 2023
2023-11-14
Julphar reports revenues of AED366 million in Q3 2023 with double digit growth development in its core market KSA
13th November, 2023, Ras Al Khaimah, UAE: Gulf Pharmaceutical Industries PJSC (Julphar), one of the largest pharmaceutical manufacturers in the Middle East and Africa, has reported its financial results for the period ending September 30th, 2023.
Amid the current political headwinds affecting the region and the currency devaluation in Egypt, Julphar reported revenues of AED366 million in Q3 2023, a 12% decrease compared with last year (10% decrease at constant currency).
During the first nine months of 2023, Julphar's revenues remained stable at constant currency and reached AED1.25 billion. In the GCC countries Julphar achieved double digit revenue growth and further expanded its strong market position, which helped to compensate the unfavourable market development in Sudan, Egypt and Iraq. In particular, sales to Saudi Arabia reached a very strong +17% growth, highlighting the positive advancement and increasing market share of Julphar in one of the core markets in the region.
This quarter saw subsidiary Planet Pharmacies continue its growth momentum in the retail and distribution business, delivering +5% growth in sales in comparison to the same period last year.
The gross margin in Q3 2023 has seen an improvement compared to the previous quarter reaching 27.7%, supported by the operational improvement initiatives implemented in recent months, but still remains below previous year level.
Julphar reported an improved net loss of AED37.8 million in the third quarter of 2023 compared to the net loss of AED40.4 million in the previous quarter, as a result of continued cost savings and efficiency initiatives.
EBITDA from continuing operations reached AED21.2 million in Q3 2023 and achieved a 5.8% EBITDA margin as percentage of net sales, in comparison to AED8.3 million in Q2 2023. For the nine-month period the EBITDA adjusted by one-time events reached AED87.6 million (7.1% EBITDA margin).
Sheikh Saqer Bin Humaid Al Qasimi, Chairman of the Board, Julphar, said: "Julphar remains committed in its pursuit of driving excellence and executing our strategic priorities. Ensuring that patients have access to high quality medicines is of paramount importance to us and will continue being a priority for Julphar as we bolster our efforts and provide innovative solutions across the region."
Mr. Basel Ziyadeh, Chief Executive Officer, Julphar, said: "With projected economic growth on the horizon, Julphar will maintain its razor-sharp focus on increasing its market share in core markets across the region and ensuring the highest levels of manufacturing excellence to drive our efficiencies and performance forward. With new product launches enriching our existing pipeline, we are confident in our capabilities of boosting our underlying revenues in the coming years."
Looking ahead, Julphar aims to maintain the robust development of new innovative products and therapies, following the approval of 32 products across different markets in the MENA region in the first nine months of 2023, which will consequently be launched in the future. Ultimately, through the expansion of Julphar's product portfolio and exploration of new collaborations and partnerships, the company will be able to deliver a broader product range in its core-therapeutic areas to reach more patients and contribute to a healthier future for communities in the region.