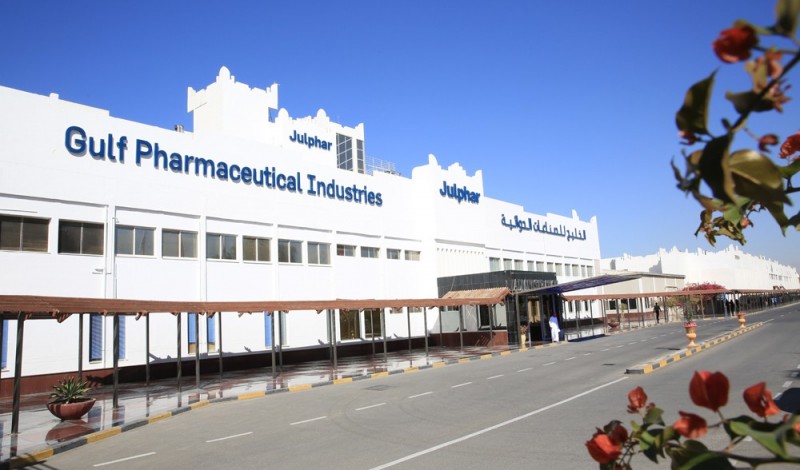 Julphar reports double digit revenue growth for 2022
2023-03-22
Julphar reports revenue of AED1,616 million in 2022, a 41.4 percent growth year on year
Julphar's market share growth remains key revenue driver
2030 growth strategy on track
MARCH 2023, Ras Al Khaimah, UAE: Gulf Pharmaceutical Industries PJSC (Julphar), one of the largest pharmaceutical manufacturers in the Middle East and Africa, has reported its year end 2022 financial results, with strong topline growth driven by the company's transformational growth strategy across the Middle East region and beyond and continued success of its key brands.
The company reported a robust topline growth with 2022 revenues of AED 1,616 million, a 41.4 percent increase as compared to full year 2021 revenue of AED1,143 million, which is primarily attributable to increased market share in key operating regions including the United Arab Emirates, the Kingdom of Saudi Arabia, Iraq and North African markets, together with the impact of the full year consolidation of Planet Pharmacies. Over 2022, Julphar continued to execute its geographical expansion plans, signing agreements with several new partnerships.
Moreover, overall contribution from Julphar's wholly owned subsidiary, Planet Pharmacies, continued to boost the Group's financials. Julphar increased its stake in Planet Pharmacies in 2021 from an initial 40 percent to acquiring full control 100 percent, extending the group's capabilities into the distribution and retail segments of pharmacy healthcare sector across the UAE, KSA and Oman.
Sheikh Saqer Humaid Al Qasimi, Chairman of the Board, Julphar, said: "Our robust topline growth is testament to the growth strategy we announced in the past year, which embodies Julphar's inspirations to be the leading pharmaceutical company in the MENA region, recognised with first-to-market products and value-adding medicines. As we continue to grow our presence in the region, Julphar remains committed to providing affordable and quality healthcare solutions in markets it operates within across the MENA region and beyond."
He added: "Julphar continues to streamline its activities by divesting from its non-core activities, focusing on its 'Strategy 2030', aiming to deliver sustainable growth that capitalizes on our strategic partnerships with institutions globally and driving our leading local and regional position. Moreover, the recently appointed Chief Executive Officer, Mr. Basel Ziyadeh, is also set to accelerate the company's growth journey, increasing its scale and capabilities to further solidify its regional expertise.
In 2022, Julphar reported EBITDA from Continuing Operations of AED 144.6 million (8.9 Percent EBITDA margin) and Operating Profit of AED12.6 million supported by improved profitability of the company's manufacturing business. This marks a significant improvement over the company's operating loss of AED83 million of 2021* after excluding the favorable one-off impact of the vaccine business in the previous year.
"Mr. Basel Ziyadeh, Chief Executive Officer of Julphar, said: "The company's expansion across the markets it operates within has been instrumental in driving revenue growth. Furthermore, the company's investments towards establishing new product pipelines across core business areas alongside our focus on further developing our inhouse R&D projects and licensing partnerships will continue to be vital for delivering shareholder value over the years to come."
Looking at 2023, Julphar will drive its transformational growth agenda with launching new products set to drive sustainable development as part of the group's commitment to deliver enhanced value across all its stakeholder groups.
The vision 2030 aligned with the company's operational objectives to continue developing the Company growth via six central growth pillars, explores a range of strategies from the optimization of its current portfolio to the launch of new products, geographical expansion, and strategic business initiatives.