Julphar and Huadong Medicine Announce Strategic Cooperation of Liraglutide in the Middle East and North Africa Market.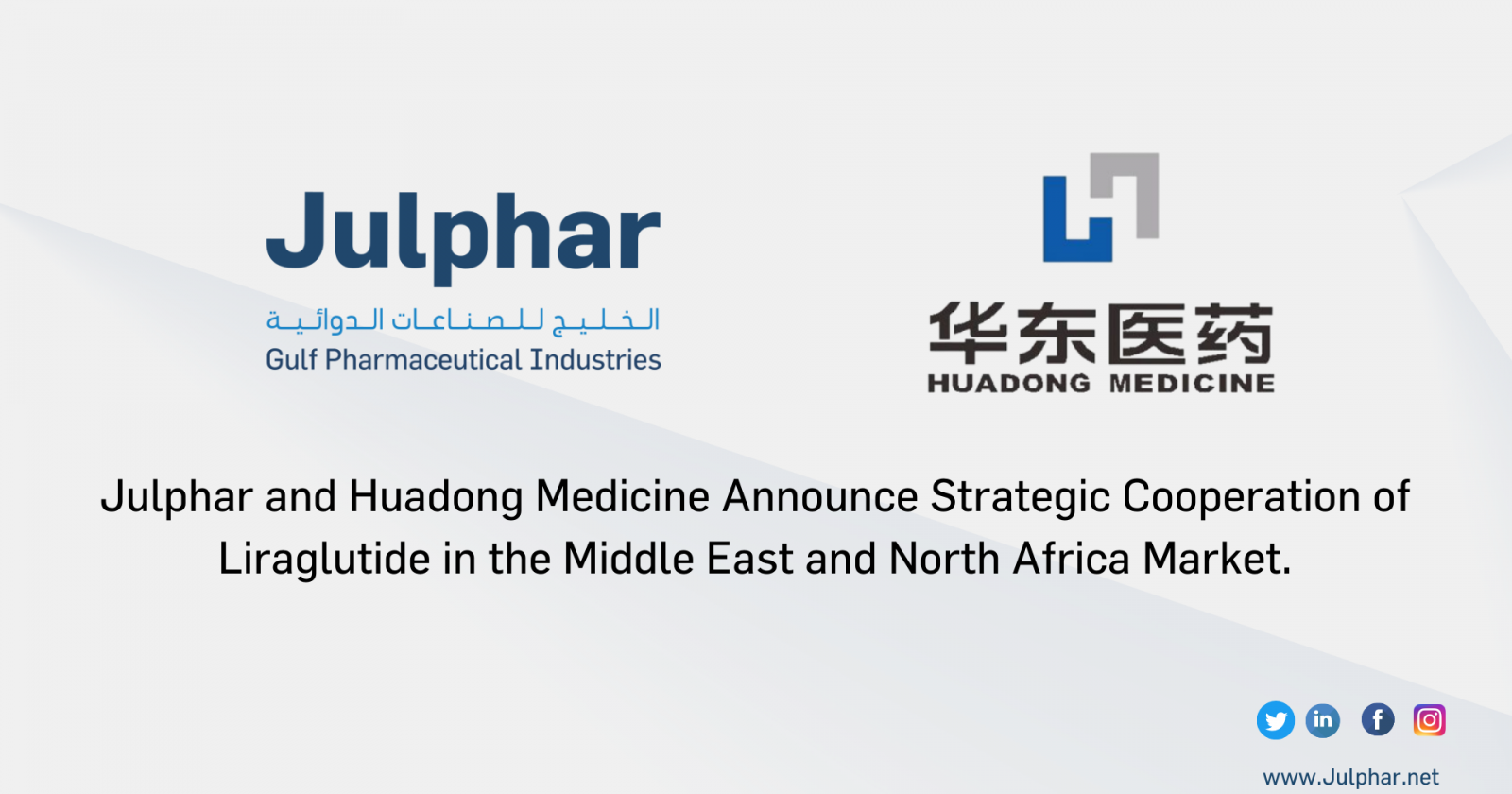 Julphar and Huadong Medicine Announce Strategic Cooperation of Liraglutide in the Middle East and North Africa Market.
2022-06-25
Gulf Pharmaceutical Industries PJSC Julphar and Hangzhou Zhongmei Huadong Pharmaceutical Co., Ltd, a wholly-owned subsidiary of Huadong Medicine Co, Ltd, announced strategic cooperation by which, Julphar will develop, manufacture, and commercialize Liraglutide (including both indications of diabetes and obesity), in 17 countries in the Middle East and North Africa region (MENA) including the UAE, Saudi Arabia, Egypt, Kuwait, Oman, Bahrain, etc.
Liraglutide injection is a human glucagon-like peptide-1 (GLP-1) receptor agonist with 97% sequence homology with human GLP-1. It is mainly used for glucose control in adult type 2 diabetes (T2DM). Huadong's liraglutide injection for diabetes indication has filed NDA in China and is expected to get the marketing approval by the end of 2022. Obesity indication has completed Phase III trial in China. It is now in the pre-NDA stage and expected to file NDA in June.
Based in the Emirate of Ras Al Khaimah, UAE, Julphar is one of the largest pharmaceutical companies in the MENA region and one of the world's leading insulin producers, maintaining a leadership position in the production and distribution of pharmaceutical products with internationally accredited 12 state-of-the-art manufacturing facilities. According to the International Diabetes Federation (IDF) 2021 report, the Middle East and North Africa (MENA) region have the highest prevalence of adult diabetes in the world, and the adult diabetic (20-79 years old) market size is about 7.6 billion USD. Among the top 50 countries with high obesity prevalence, the MENA region has 13 countries, among which Kuwait has the highest obesity rate (37.90%), 11th in the world. With this cooperation and Julphar's manufacturing, registration, and commercialization strengths in the MENA region, both Huadong and Julphar Medicine can access this large potential market.
Ras Al Khaimah is home to a thriving manufacturing and industrial sector, one of the strongest in the region, as the booming manufacturing sector contributes over a quarter of the Emirate's GDP and forms a large proportion of its global exports. The emirate also offers critical drivers for an attractive investment environment, such as low business costs and resilient growth opportunities.
Huadong Medicine has been dedicated to China diabetes market for nearly 20 years, with rich experience, strong commercialization capabilities, and advantages in marketing channels and product brands. With the continuous enrichment of the product pipeline, the company has completed the overall layout with innovative compounds and differentiated generic drugs in the field of diabetes. From the three dimensions of generics + innovative + biological products, the company has constructed a product mix covering the core therapeutic targets and clinical mainstream drugs, with more than 20 products currently commercialized and under clinical development.
Upon completion of this transaction, liraglutide injection will become the second license-out product of Huadong Medicine after TTP273, demonstrating Huadong's strength in diabetes and its R&D and innovation capabilities. This transaction also demonstrates Huadong Medicine's strong commercialization and collaboration capabilities, which is an important milestone for the company to integrate into global pharmaceutical R&D innovation, and lays a solid foundation for expanding overseas markets in the future.
Dr. Essam Mohamed, CEO of Julphar, said, "We are very pleased to collaborate with Huadong Medicine, a leading Chinese pharmaceutical company. We are confident that with the technical advantages, production capabilities, and excellent drug development and marketing capabilities of both Huadong Medicine and Julphar; Liraglutide injection will blossom and bear fruits in the MENA region."
Chairman of Huadong Medicine, Lv Liang said, "Julphar is one of the largest pharmaceutical companies in the MENA region with more than 40 years of experiences. Both Julphar and Huadong Medicine have been committed to diabetes and obesity, which have a large patient pool and unmet medical needs. Huadong Medicine is privileged to join hands with Julphar and leverage each other's advantages to achieve the successful launch of liraglutide injection in the MENA region, benefiting more patients around the world."
Huadong's Liraglutide injection is a biosimilar of Victoza®, which uses a different production process from that of the original manufacturer. Huadong has completed the clinical research of liraglutide injection (diabetes indication) in June 2021, submitted a listing application to the NMPA in August 2021. The clinical development of the obesity indication has been completed and is in the process of submitting NDA.