Sanjay Deshmukh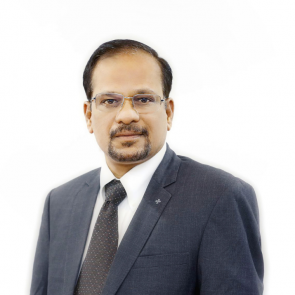 Executive Team
Chief Operating Officer
Mr. Sanjay Deshmukh is the Chief Operating Officer. He has over 30 years of industrial experience in Operations management, Quality Assurance, Project Management and Manufacturing Science and Technology. He has long associations with industries leading organizations Merck, Dr. Reddy's, Jubilant Life Sciences and Sun Pharmaceuticals in various capacities.
Before joining Julphar, Sanjay was associated with Sun Pharmaceuticals as Senior Vice President - Operations and was responsible for operations of plants supplying to various regulated markets includes US, Europe, Canada, Japan and Emerging Markets.
Also he brings with him a rich experience on Operational Excellence for variety of dosage form technologies. Mr. Sanjay has diverse experience on capacity utilisation, expansion and business continuity plans for large operations across geographies in India and overseas.
Mr. Sanjay accomplished his Master's degree in Pharmaceutical Sciences from University of Nagpur, India.